Filmed in partnership with Realcomm | IBcon this talk navigates the current climate of CRE connectivity - noting the vast majority of misconception around 5G connectivity and what the future may bring.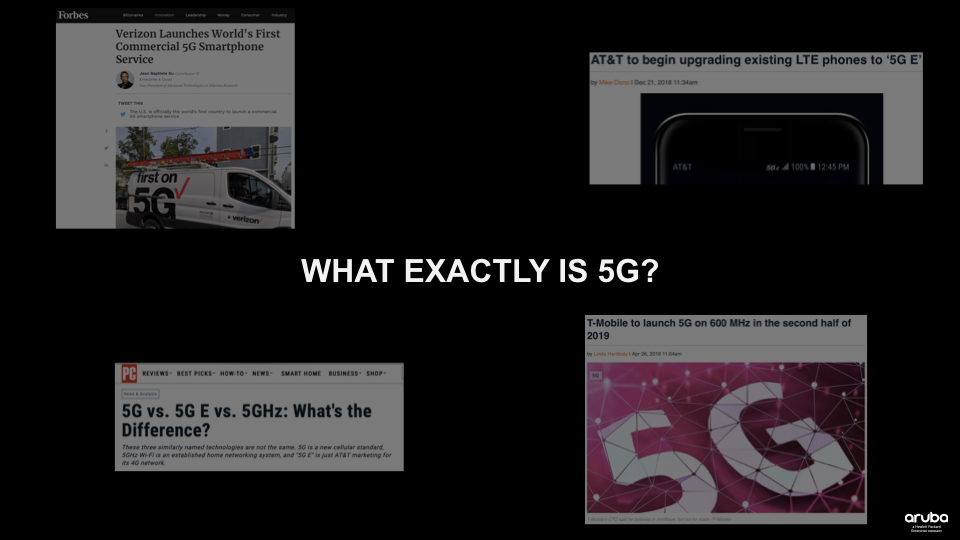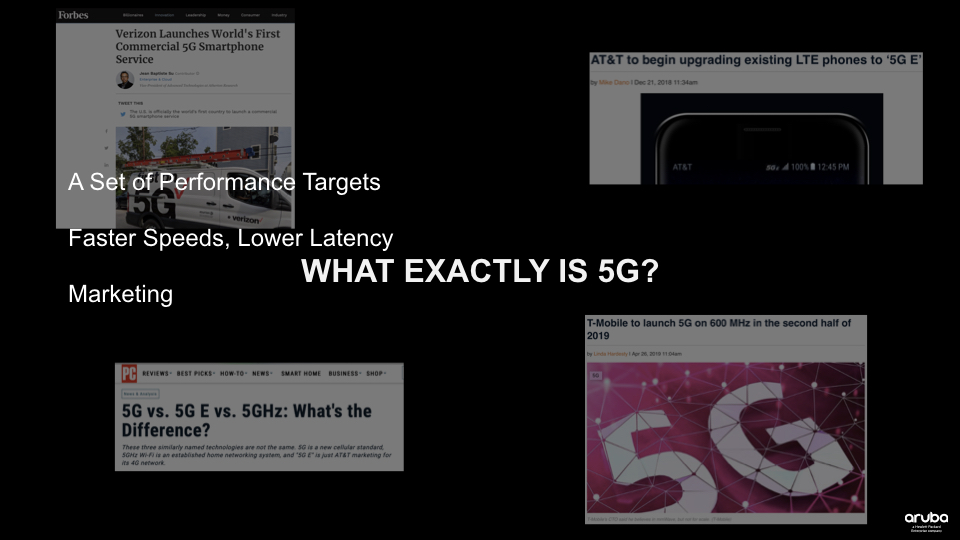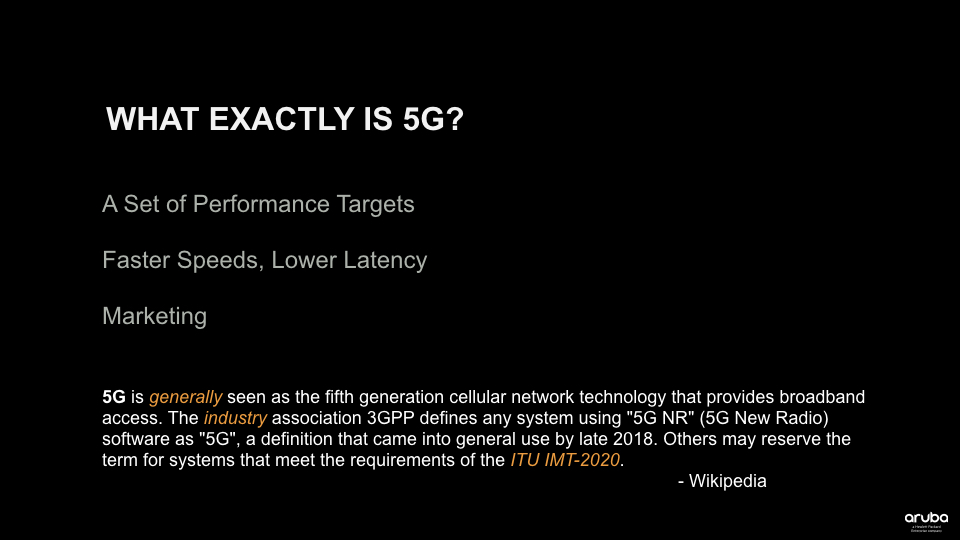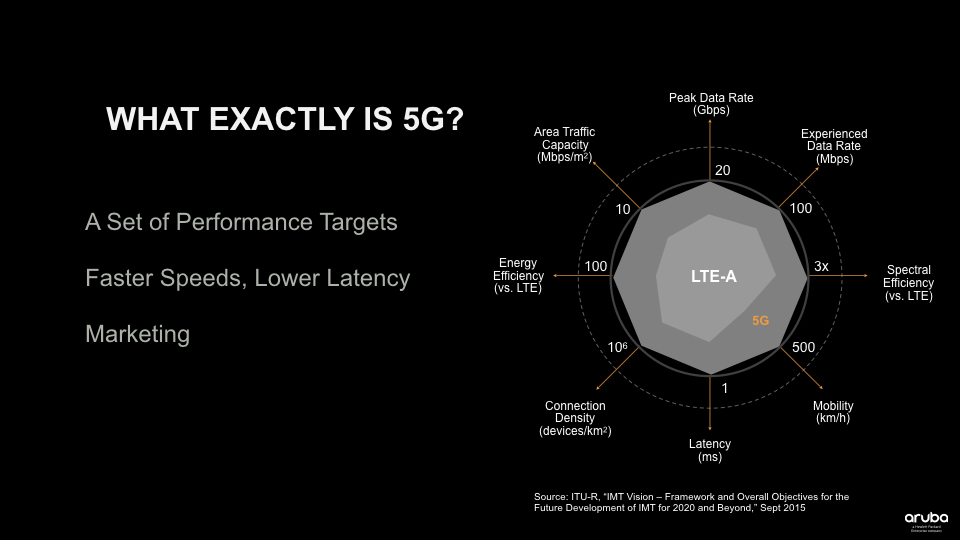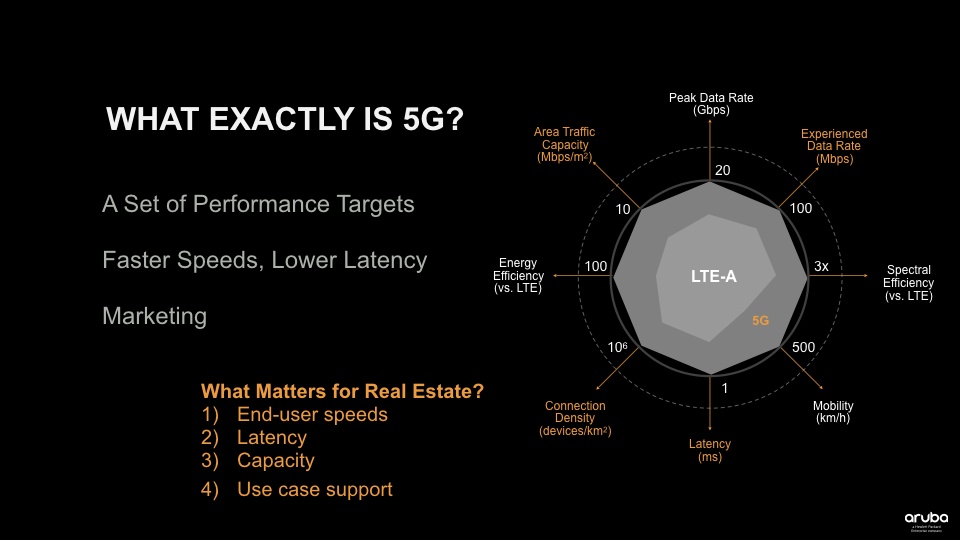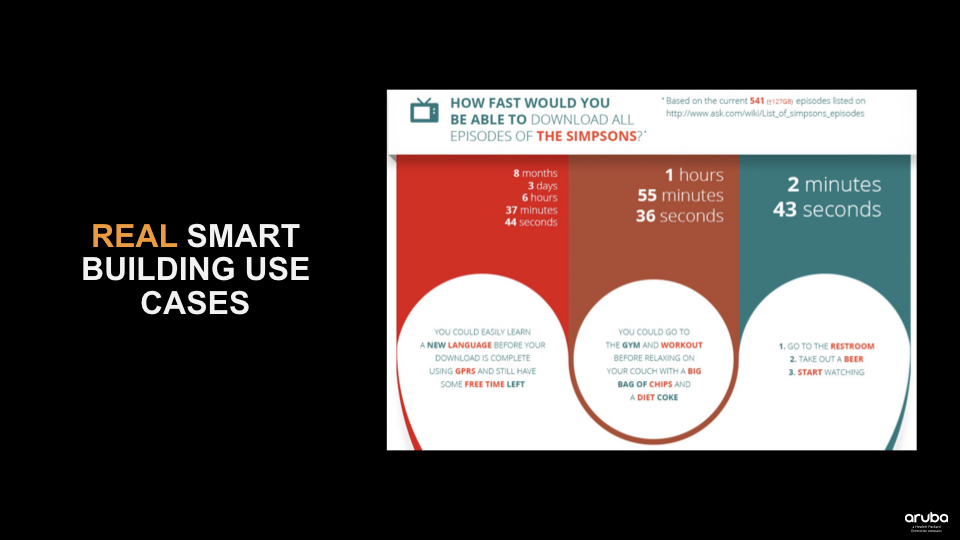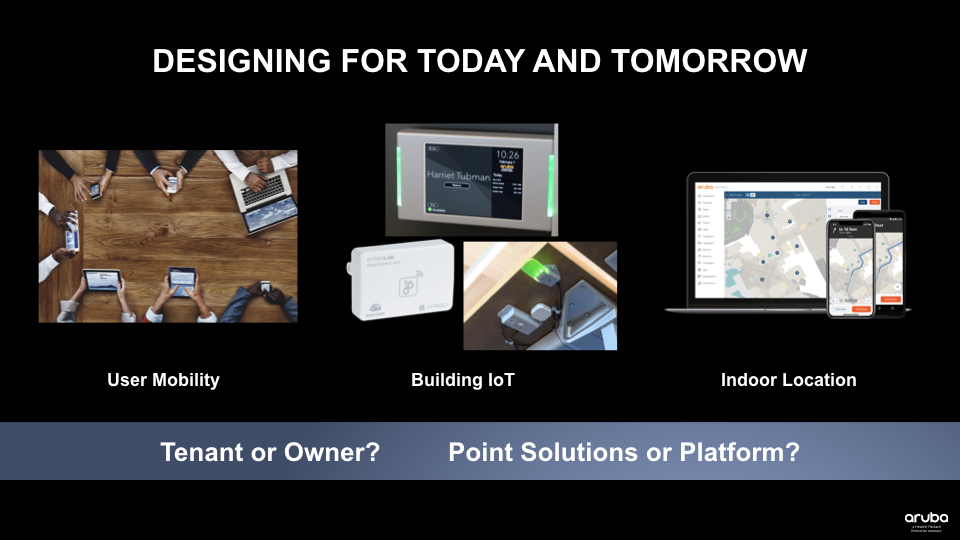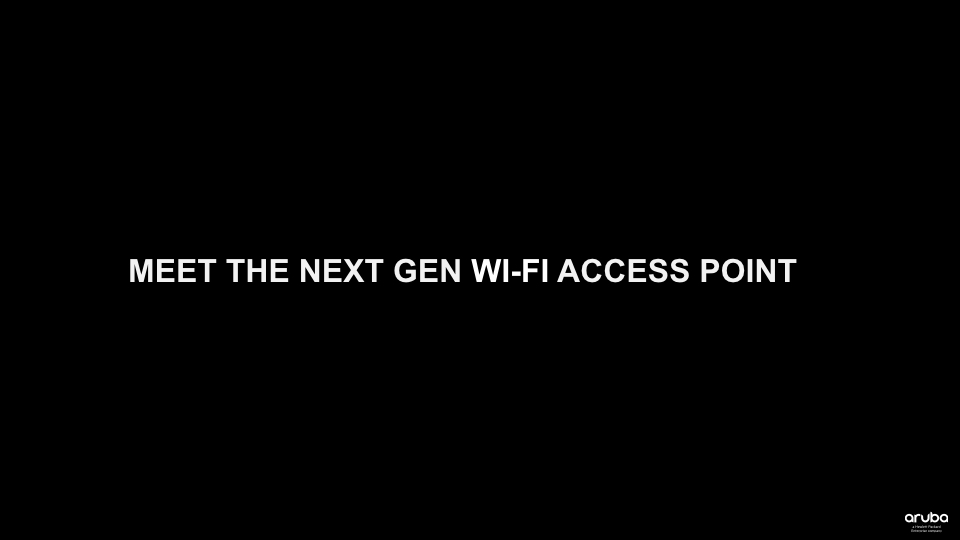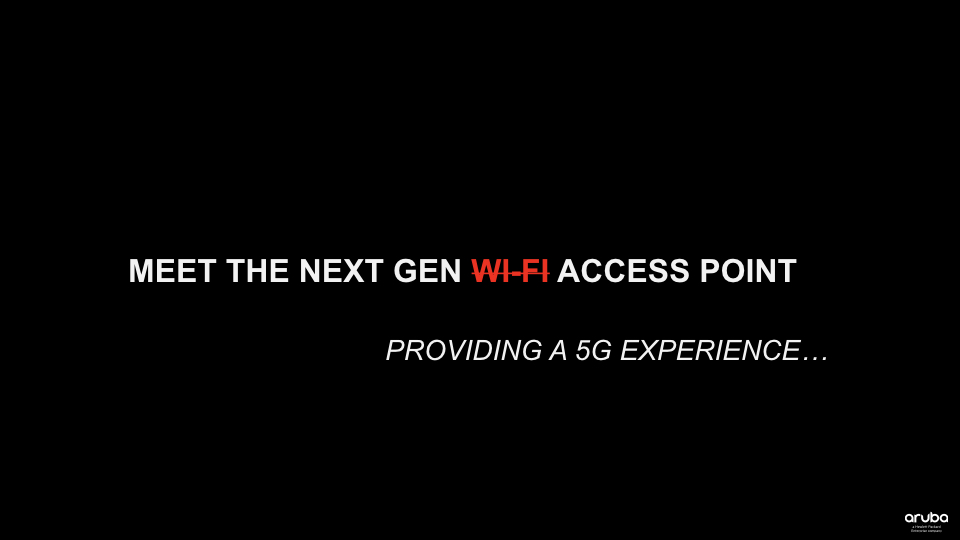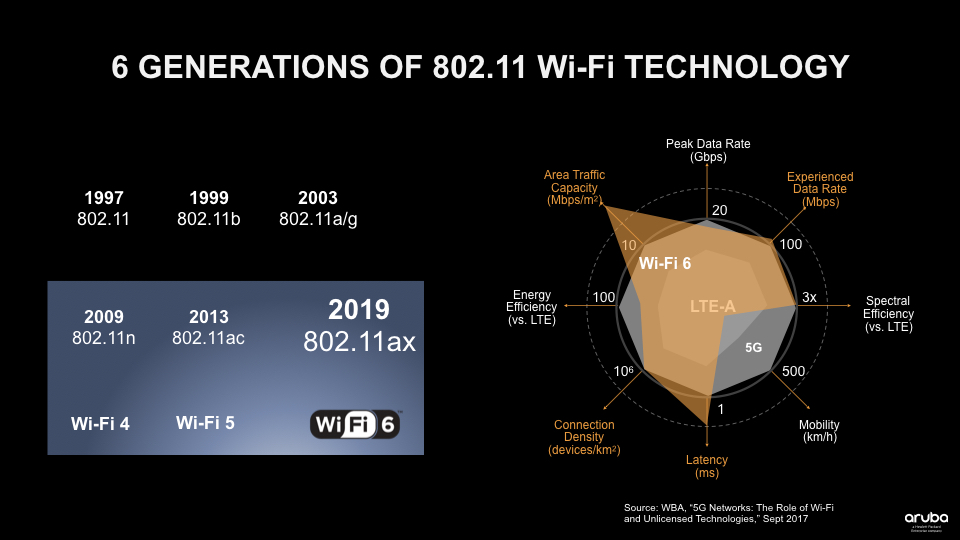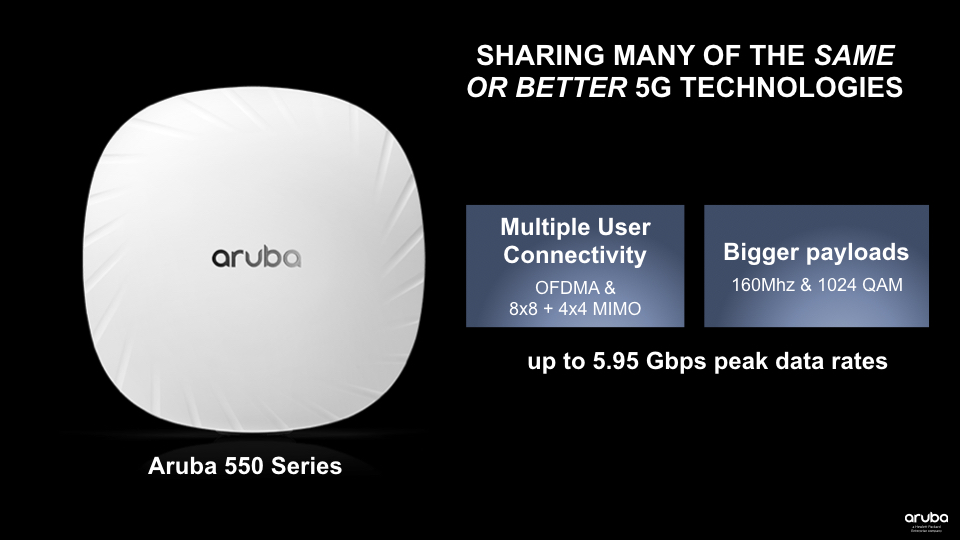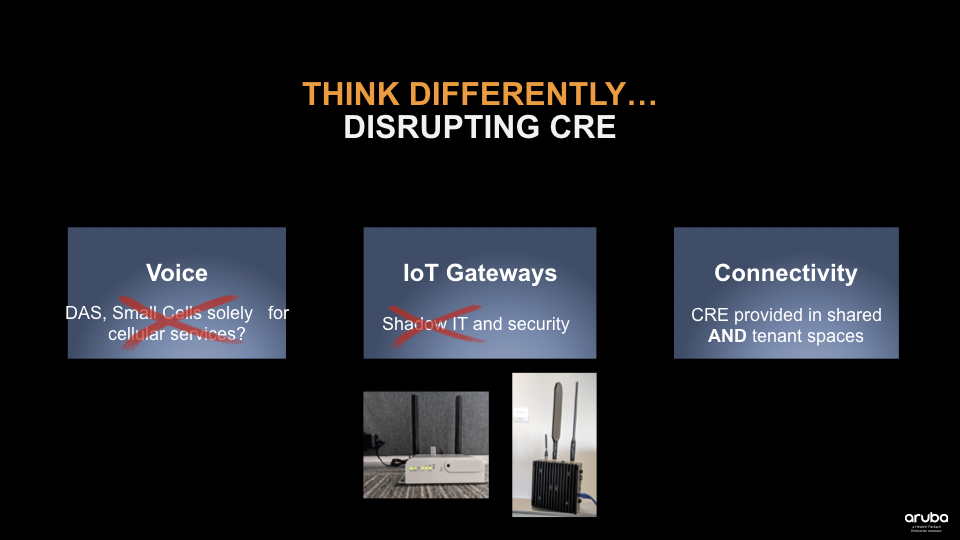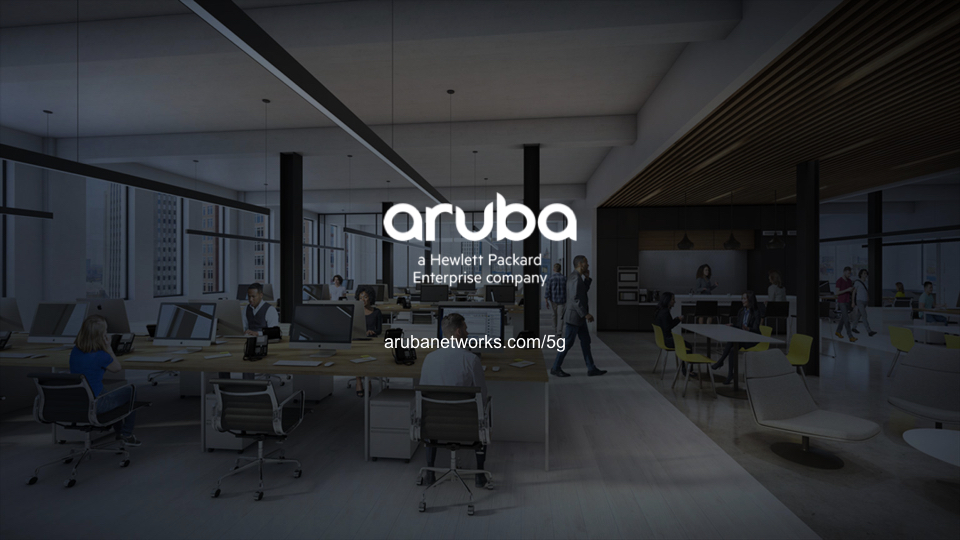 VIDEO TRANSCRIPT:
Afternoon I'm Alan Ni, I lead innovation strategy on smart spaces in I.T. at Aruba. I'm here to talk about smart connected buildings and specifically around 5G. There's been a lot of conversation about 5G at this conference and being a leading vendor in Wi-Fi Networking and the de facto way of connecting mobile devices within buildings. We obviously have a point of view here and really wanted to talk with you today to address the question.

So in my talk I'm really going to talk about these four specific topics right. What is 5G? at this point the marketing, it's been in beyond overdrive and you know frankly we don't know what the newspaper is going to say, so I want to talk a little bit about that. But more importantly as real estate professionals what are the use cases that we should really care about as we design buildings not only for tomorrow but for today. Then I want to talk a little bit about the technology investments that we're seeing not just in 5G but just in mobility in general.
And then finally a lot of the new things that allow the new technologies are coming to fruition now and actually should force a lot of us to rethink the status quo, and can be disruptive. So I want to just leave you with a few parting thoughts in that area. So let's talk about 5G what is 5G. As I said you look at the mainstream press whether it's business press technology press every day there's some other form of 5G and it is funny I was at dinner yesterday and one of my colleagues said 5G is like Whatever the carrier selling this years can be 5G.
So you know we hear about fake 5G real 5G etc. So you know if I had to summarize it I see 5G as these three things right. It's really a set of performance targets and I'll talk a little bit more about. That fundamentally at the end of the day provide faster speeds faster really shorter latency is a much better experience for all the new applications that we need to serve users, things, systems buildings. But also I think no one everyone could agree here.

There's a lot of marketing around this. I turn to Wikipedia you're not always the authoritative source but if you look at the definition Wikipedia it's actually written very very carefully right. 5G is generally seen as a first generation cellular technology. The industry association the industry being the Cellular Association defines it as this thing called 5G new radio. But then you look at the bottom there's this cryptic thing particularly for folks that maybe are in the technology world here.
They talked about these requirements around the international telecom union this I.A. 2020 standard. And when I think about it I think about it from that perspective. So what is that standard? when you know every G you know whether it's first generation sector operation third generation forget about the technologies, they go in they mean say hey we want to actually hit a couple of benchmarks. I love this diagram here. It's actually a chart despite your chart of you know all the key pieces that they were trying to achieve.
What you see in the middle of this thing called LTE is basically fourth generation technology the stuff that we're using every day. And as you can see as they move to fifth generation technology that pie has expanded and they want it to really improve a lot of these things some of these things that you know the non technologists wouldn't know. But let me decipher for folks that are in real estate in the process of trying to build buildings. These I would argue are the orange ones are those things that we should care about if we're starting to build new Smart Connected Buildings.
We want to obviously have greater user experiences whether that is faster speeds, shorter latency. We want to design for higher capacity within the building and we'll talk a little bit about the end points right. Because we realize it we're starting to get to an area where as we say wireless if you can, wired you must but I'd argue the most important thing is really to make sure that we can support more use cases. And one thing I do agree with, within 5G there's a radio layer and that's a lot of where a lot of the press is. You know where the peak speeds etc.
But there's actually a lot of investment in what they call the core of the network to say regardless of what radio you're coming on whether it's a cellular radio whether through Wi-Fi the experience that I have as I transition and move around is consistent.
So let's talk a little bit about the use cases. I took this picture because I love this as I see it. This is the marketing Ray and this are market 5G. You know how fast can you download every episode of The Simpsons or 500 episodes probably 4K etc. and know 5G could deliver to you in seconds or minutes right but let's think about that. That's not really a practical use case as we're starting to build buildings. These I would argue are really the use case that we need to think about, user mobility, user mobility in buildings right.

We spend probably about 70 to 80 percent of our time within buildings. Wi-Fi as I said is the de facto way of connecting most people whether in your home in a commercial office building et cetera. We hear a lot around Das, CPRS you know those are connected just one piece which is prior phone the thing that has a SIM card but as you know many of you in the room here you're probably carrying possibly a tablet, a laptop. I would probably venture to bet that most of you probably don't have a SIM card associated with that device.

So that's typically been something that the tenant actually provides. There's this other thing now if you think about it is building IoT and that's the heart of what Smart Connected Buildings. It's no longer just the people in the building and the smart experiences but the building itself that's being connected. The vast majority of these devices are very low power, they probably won't take a SIM card. If you talk to any vendors in these spaces, every penny matters are trying to make a sensor as cheap as possible and they're not using SIM cards or any license technology.

In many cases they're not even using Wi-Fi. They're using other lower power sort of technologies. Fundamentally, you see a big shift right in the past connectivity was a responsibility of the tenant. Now as you start getting into building IoT you know is it the lights maybe that's provided by the owner the operator the developer. Is it the windows? maybe that's the owner operator or developer. You're starting to see iPads, smart furniture, that's the tenant right. So how are you going to support all these things in this new paradigm.
Are we going to buy point solutions for every one of these products and build separate infrastructure. Or are we going to think about it from a platform perspective? Then the last piece you may not think about it from a connectivity standpoint but there's a lot of interest at this conference around experience and there's this idea of a tenant base or building base experience and in a lot of that is being driven through location and if you think about that I need an infrastructure once again to provide location. The cellular network 4G, 5G does not give me indoor G.P.S.
So how do I do all of this. We can talk a little about the next generation Wi-Fi access point but I won't even call it the next generation Wi-Fi access point.
This is more than Wi-Fi, It's really the next generation access point. So wanted to talk a little bit about Wi-Fi and just a lot of this stuff that I've been hearing here and there's a lot of that information I'm hearing that is categorically untrue. When they talk about Wi-Fi you know a lot of people are not aware there's actually been six generations of Wi-Fi. But we've been just collectively calling it Wi-Fi. Maybe you've been at best buy and you had to buy the next one you may have seen BAC and now these cryptic sort of names one of the good things this year is that the Wi-Fi Alliance came around and said OK we need to make this like understandable from a consumer perspective.
So they started to actually brand the latest version is actually something called Wi-Fi 6. You're going to hear this more so a total of an X is Wi-Fi 6. They actually went so far to even go backwards to say AC which was introduced about five years ago as Wi-Fi 5, Wi-Fi 4, et cetera. Now if I superimpose this on that chart I showed you before around 5G. This is how it lines up and you can see if we're trying to deliver that 5G experience the speed whenever within a building Wi-Fi delivers if not exceeds all those key metrics that we care about.

Now there is one area here's where it's more defficient than 5G and it's mobility. And I've heard a lot around people saying that Wi-Fi doesn't work it doesn't hand off etc.. And here if you looked at it would maybe crowd cooperate that but if you look at this when they talk about mobility they have that mobility moving 500 kilometers an hour. Now who moves in a building 500 kilometers an hour. Now who moves in a building at 500 kilometers an hour, I don't think any one of us does. This is really the envisioning you know I'm on that high speed train in Europe, you know, maybe browsing something and having continuity of service.

Right. So if you think about this there's actually a lot of good senitry you know within a building. We feel that there's a lot of this real technology capability and Wi-Fi 6 delivers the promise and all the stuff that they're talking about for 5G now. Right. The latest Samsung Galaxy phones have Wi-Fi 6 baked in them now. The infrastructure and you'll see this access point that we have and a lot of our other folks in the industry we've been delivering Wi-Fi 6 access points since last year.

And for the more technical folks here I'll be really quick, you know it's sharing many of those same technologies that 5G has. If you understand some of these things like, channel widths multiple antennas OF DNA technology, we're borrowing back and forth between cellular 5G and Wi-Fi. But really the more important thing is really the use cases right. And we're delivering them today. So this latest generation access point obviously has new technology like A X if we think about it from delivering voice one of the more interesting things is delivering voice in a building and as I said, I heard a lot of disparaging over Wi-Fi doesn't work well for a voice is too hard too hard to get people on.
We have a very interesting technology called Pass point and we're demonstrating this downstairs, where individuals with a phone with your SIM card, the access point you're going to automatically join the access point. Right. So one of the big frictions in Wi-Fi as you walk into a venue I need to understand what the network name is, I need to go into my settings join it right and then at that point I don't even know if I have security it's prior open network. With this new technology called Pass Point which has actually been around for two years but now really coming to fruition and starting to get real carriers online.
As I said if you have some of the major carriers answers when you walk by our booth you're just going to automatically associate to it, there's no friction. More importantly you're getting onto a secure network with secure credentials. In our view point is you know now voice which traditionally you've put a dedicated system in, right, at two dollars - two fifty cents a square foot is now just a service that we could deliver into a building the next generation access point.
A lot more interesting too is building IoT as I said lights, sensors you know furniture, people counter sensors, are not coming through Wi-Fi in a lot of cases, they're certainly not coming through cellular, 5G, cellular, they're coming through things like Bluetooth 5, Zigby this next generation access point is actually providing that sort of connectivity. Then you know indoor location we talked about it, this is now in the second generation same infrastructure effectively putting G.P.S. above your head in a building to allow people to navigate.

And then finally the last piece you may have heard prior about a year or two ago, Wi-Fi hacks around Wi-Fi security standard WPA2, WPA2 is actually over a decade old so it's like geriatric. the newest access points a new standard WPA3 that really closes a lot of those gaps are now in this specific sort of next generation access.
So really the final thoughts now that I've shared with you a little bit in terms of the holistic development the use cases et cetera as real estate professional's how does this disrupt how what should we be thinking about. So one is around voice services in this new building keeping people connected. Right. I think I still hear and why we're doing investments with this organization, with this group, is that up until now a one to one association is set to deliver high quality voice you have to do it through DAS or small cell etc.
Not to say that you can't deliver it right but making it exclusive, that's absolutely false. We're delivering that you're likely using Wi-Fi at home potentially for phone calls. Right. We're delivering much much greater quality of service within a building. We can deliver it to the majority of buildings where a lot of these DAS systems may cover 2 or 3 percent of all reasonable space. To this idea of IoT gateways if you actually deployed an IoT gateway to support your lighting system or something, you wanted to avoid you may not have heard of the term shadow IT, if you're doing it you are shadow I.T.

These are actually devices we have in our building now they're just sitting on the carpet sitting plugged in then if someone just tripped over I have no idea how to manage them, where they are, you know are they a security risk or not. They're really the final piece here, and it's around you as a real estate developer even us as a vendor. Traditionally a lot of this coverage right whether it's networking coverage you kind of placed upon the tenant and the tenant in his or the organization suites you may have connectivity but now the expectation to have consistent experience throughout the entire building is a lot more social services you know club lounges whatever that a lot of developers are now putting into the next generation of buildings.

So you as one of those developers really need to start thinking about the services that you need to deliver holistically and oftentimes in the past as an afterthought. The only thing that had to do was deliver DAS or deliver if you could afford it and that would provide cellular services. But what about all those other IoT devices right. You would do smart parking or door locks and other things right. You need to start thinking about a much broader infrastructure play for that. Right. So we're encouraging really commercial real estate to start thinking about this not just for shared spaces but potentially for tenant spaces and for us as a vendor that's disruptive to us to. Our core client has always been and we focus really on the tenant occupier less so on the commercial real estate folks.
So that's that's really going to wrap it up here. Thank you very much. We've actually done a lot of thought leadership this week. Feel free to reach out to our website. We've published a lot on this and we're just coming out. Thank you