Filmed in partnership with Realcomm | IBcon.
From the edge, through the fog and into the clouds - a deep dive into the core components of IoT in commercial real estate today. David Unger, CEO of Sentient Buildings helps navigate current pain points in IoT and cloud infrastructure as well as how technology is bringing forth new solutions.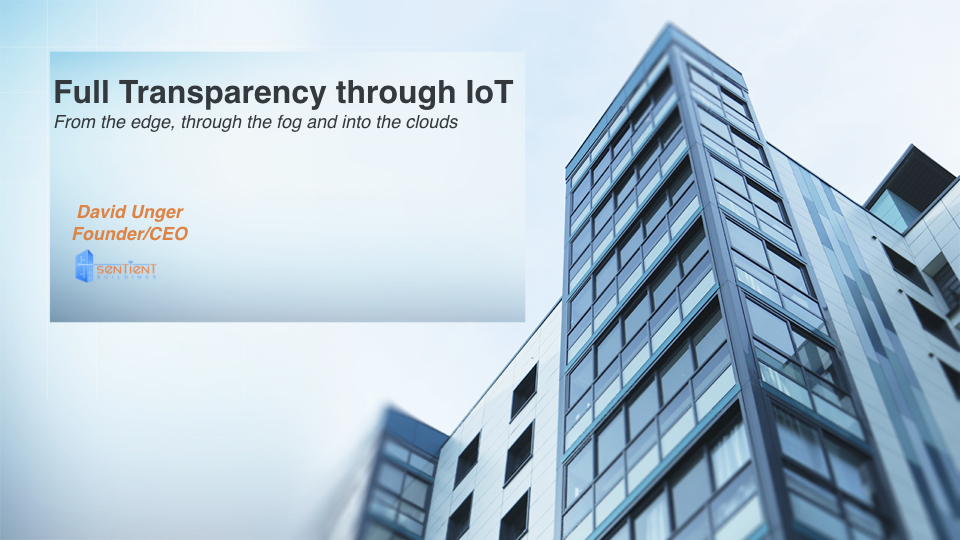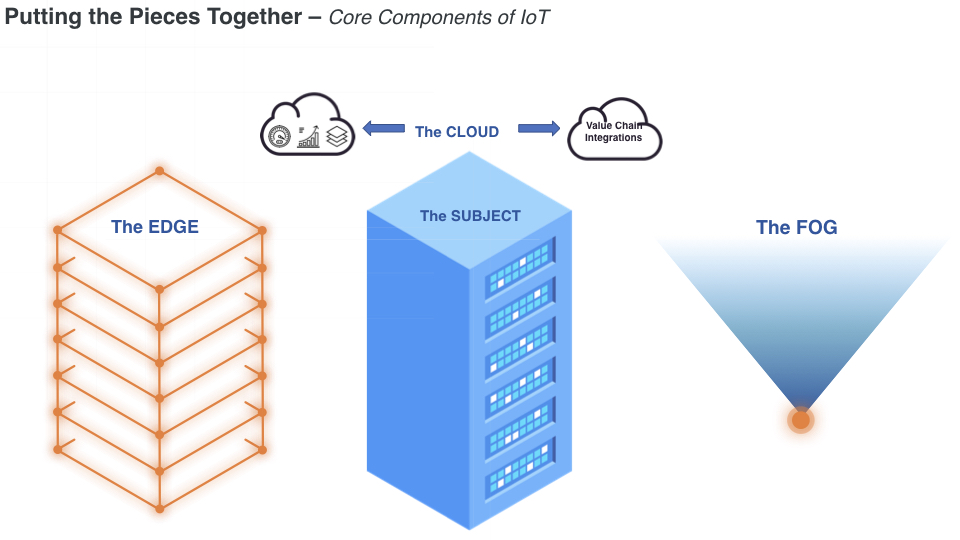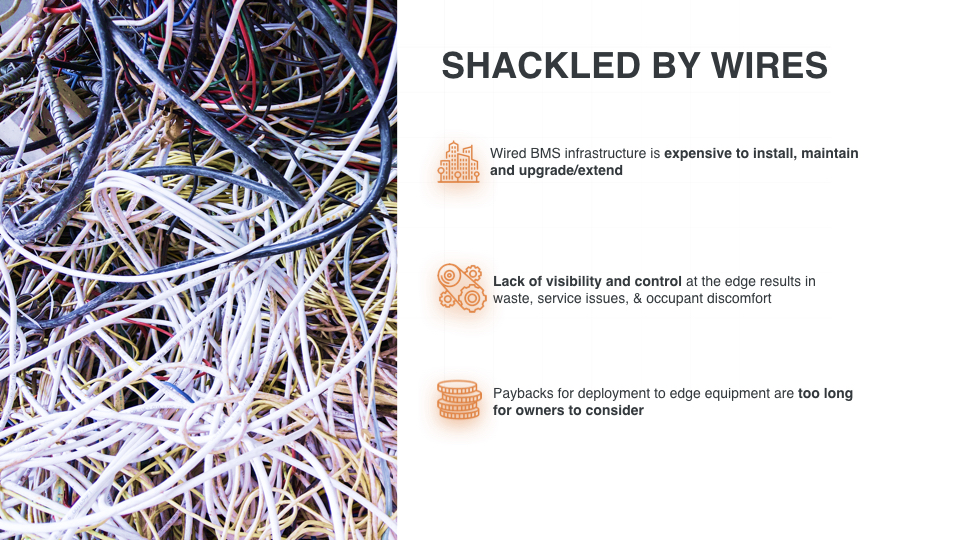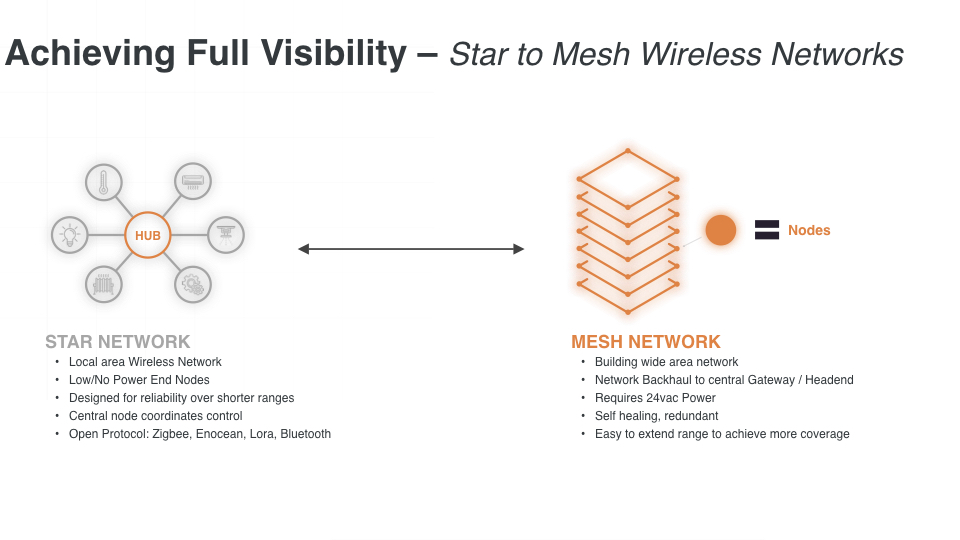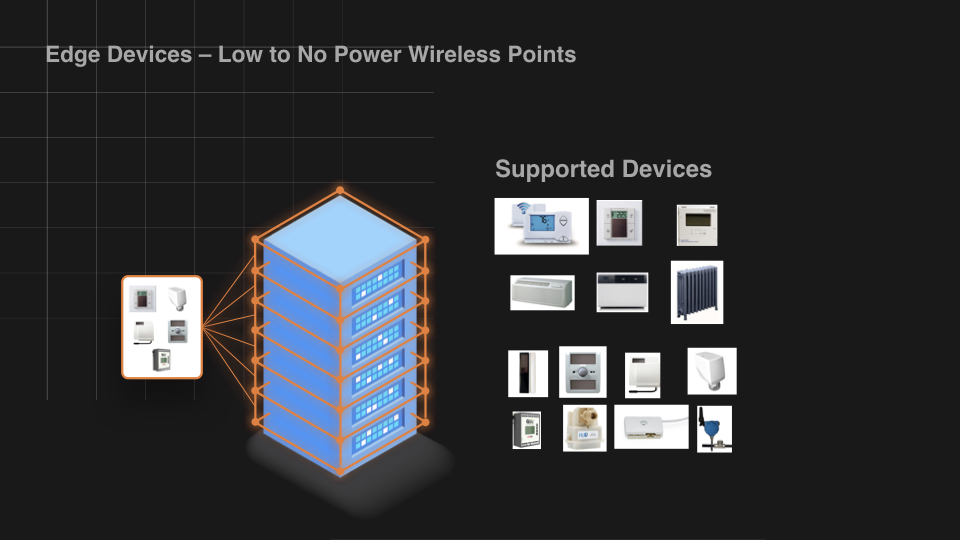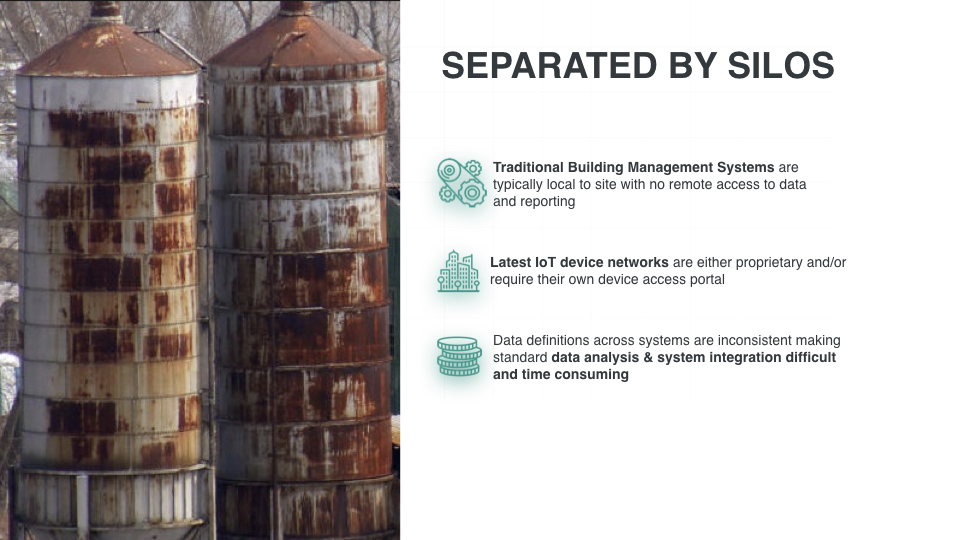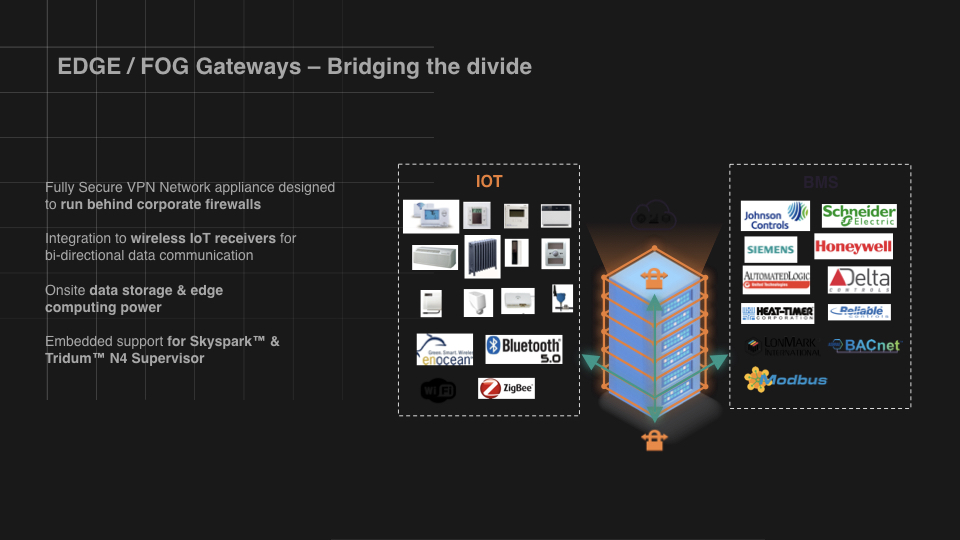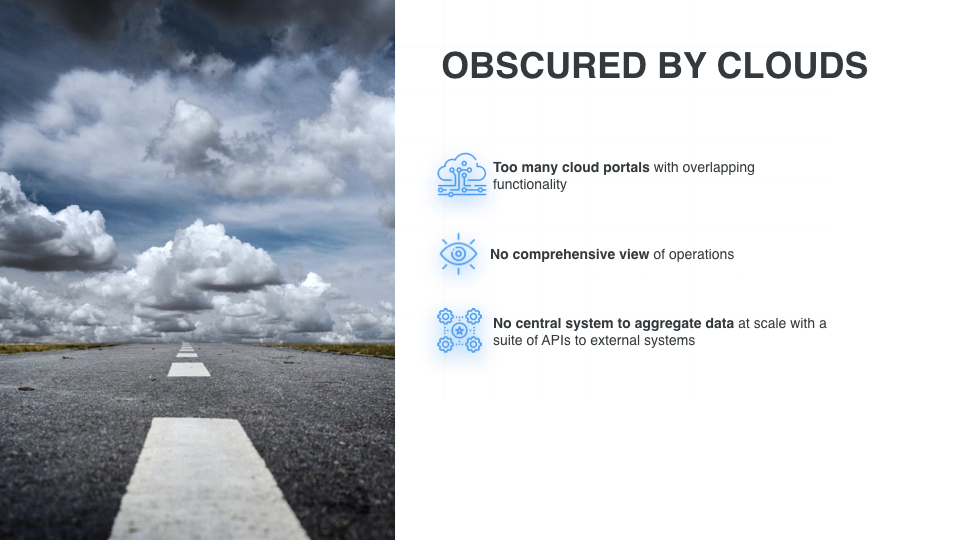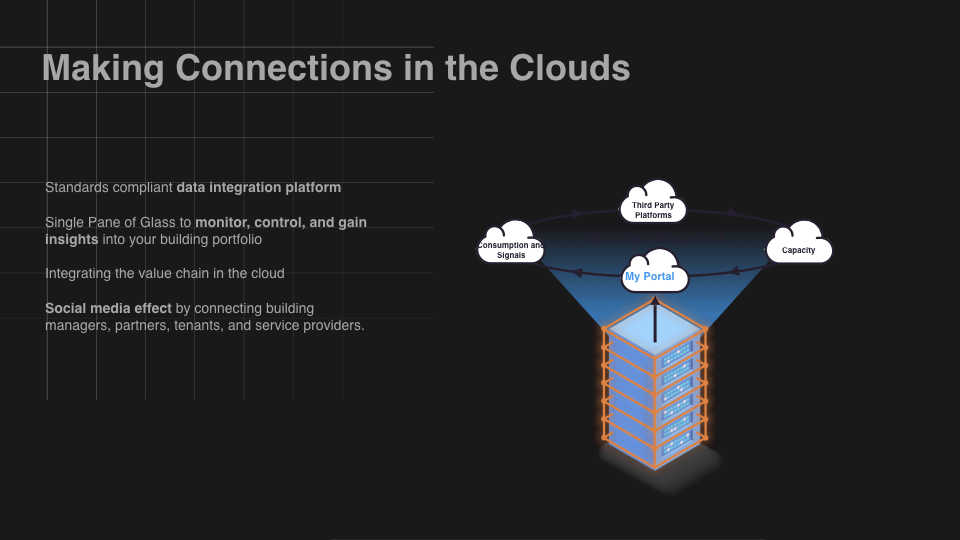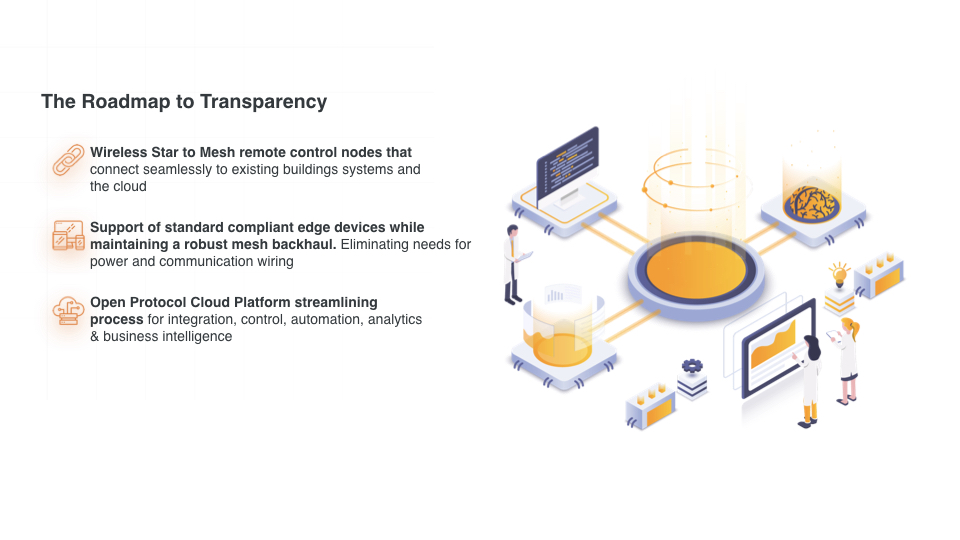 VIDEO TRANSCRIPT:
Good afternoon everybody, My name is David Unger. I'm the CEO of Sentient Buildings. Sentient Buildings is a wireless IoT device infrastructure company where we integrate wireless devices to traditional BMS systems, platforms and we bring all of that data up to the cloud securely and reliably.

So my presentation today is going to be on creating full transparency in buildings through IoT technologies in the subtitle - from the edge through the fog and into the clouds.
How do you get full transparency of your data in/and controlling that data from the cloud back down to the edge. So you're just looking at how we put these pieces together, what are the core components of an IoT network or design? You have the cloud the cloud's where you know the data is going to ultimately be pushed too, you have your subject here in the middle, the building, the edge is your edge device network.
So how does that network function? How are you getting data from the very edges of your building and not just from your central plant systems or from air handlers or from other operational technologies in the building? How do you get into the tenant spaces and collect data on temperature, humidity or how do you control individual terminal units in apartments and other things?

How do you get bi-directional with monitoring and control to the edge? then the fire concept here is all about distributing that computing power, right. So how do you distribute your computing power between the cloud and the edge?
How do you maintain it, manage your security, how do you maintain data across all systems across both the cloud and the edge? So there is talk about how those pieces get put together but let's just talk about some of the traditional kinds of problems that we try to solve for building owners and operators. The first one is wires. Wires are very constraining in buildings, in wired systems and wiring up sensor data and wiring up devices and control points. It becomes expensive to maintain those systems and you don't typically deploy to the edge in a way that makes sense for the building. Wired is a mass infrastructure, it's expensive to install maintain upgrade and extend.
What we find is while you could potentially control every tack in a building, every electric baseboard heater in a building while you could do these things they're not economical or feasible in old construction or in retrofit projects. Paybacks for the owners to deploy to the edge are too long for them to even consider.
What we really look at is how to achieve this full visibility and do it reliably with wireless. Wireless technologies typically in a lot of ways, is unreliable. It might be okay to monitor a temperature sensor but if you're controlling somebody pee tac unit or if you're doing something that needs to be done reliably and consistently you know you can't be subject to wireless interference or other problems that might arise with wireless device networks.
So the way we look at this is we've divided wireless networks into two typologies. We look at the Star Network as having a central hub right that can coordinate and monitor devices that communicate directly to it. That Star Network provides basically a local area or a personal area wireless network within its face.
So within a specific space it could be an apartment could be an office space but you have this local area wireless network and you could actually deploy on this network because it's now very short range. When I say short range I mean like 30 to 40 feet.
If you could deploy low to no power and end nodes at the edge that can be powered by ambient light can be powered by kinetic energy so you don't even have to put batteries in those devices and it could be as simple as peeling and sticking something on a wall like a thermostat and getting readings back to your hub. The mesh comes in where these hubs act as repeaters on a mesh.

So you have your star network at each node and each hub becomes a repeater in there you form a building wide area network where all the mesh nodes communicate with one another and they report back to a central gateway or central system in the building and that way you achieve full reliable coverage across the entire site.
Once you have the wireless network in place, what you can do with it? What kind of devices can you deploy and you could deploy these devices very cost effectively, temperature sensors actuators hours occupancy sensors energy meters and you could deploy them without having to run power or communication wiring to them. So it becomes a very inexpensive deployment and not only that it becomes reliable in terms of wireless range and communication.
Now you're bringing all of the wireless data back to a central point. That's great. But now what typically happens is the data still remain separate from existing building management systems. Wireless IoT data should be simply extending existing BMS platforms. They should not be their own platform or their own system. The latest IoT device networks are typically proprietary. You have to use some specific kind of sensor, they might have their own portal platform or their own local client to access the system. So you want to basically build a platform that allows for extension of this IoT device system so that it can be used by other systems in the building.
The other thing that happens across multiple systems is your data definitions are not in sync. They're not homogenized. They're not normalized. The way that you define your data is different across multiple systems so you need a simple way to bring all that data definitions together so that they're defined correctly across all your platforms so that you can identify systems and platforms consistently to perform analytics, to run alarming and create issues across the system.
It's very important to get that straightened out. Where these edge to fog gateways that bridge the divide fit in is, you create this fully secure VPN network to your cloud. So now you've secured your network of all this data. You have integration of your IoT receivers into that network and then you also create onsite data storage and edge computing power through a central fog gateway.
Now both the wireless network and the IoT device network can communicate to the other building systems and the same goes for the building systems that were traditionally not connected to these device networks.
Then pushing that data right up to the cloud so you have your IoT systems and you have traditional BMS platforms all coming together in a central system.

There are many cloud platforms that are out there, you know performing analytics against the data or providing other services against the data, it becomes a problem because you still don't get a comprehensive view of operations. Many users have to log into multiple systems in order to evaluate and analyze their data. So really what's needed is a central system to aggregate the data at scale with a suite of API eyes to these external systems in the cloud.
There needs to be the single pane of glass where the data exists in the cloud and is moderated and controlled in the cloud. Then you have integration so all the other systems that you might need to retrieve data from provide a standard compliant data integration platform with a single pane glass view into that system and then you integrate the value chain of all of these other providers in the cloud.
Eventually what you'll get is a method of setting the stage for full integration and collaboration across all cloud platforms so that you can easily share data across systems, distribute data to your engineering and energy consulting firm so that they can evaluate that data and help the building owner make decisions on capital projects, for example the tenants and residents can gain access to their thermostats easily.
The owner operator could grant access to the thermostat without them having to put their own nest device in or some other type of Wi-Fi device hvac service companies could gain access to enact this. This access control system where data is shared so that they can evaluate problems with your air handler or your boiler plant or your chiller plant. You get full transparency all the way down to the device level and now you're providing full transparency to all the collaborators who actually need access.
If they had access they can provide better services to the building, so what is this roadmap to transparency look like? wireless start a mesh remote control nodes that connect seamlessly to existing building systems. So really designing your wireless IoT device network so that it's standardized and compliant with existing systems. You want to support standard compliant edge devices while maintaining this from robust backhaul. You want to eliminate the need going forward for power communication wiring.
We recently did a project in a 2 million square foot building where you can put a device now anywhere in that building, a sensor, thermostat, any control point, you can just place the device in the building and it will come up on the network and be visible in the cloud. So that really allows complete flexibility. The types of sensors that you use and you could use at much lower costs than was traditionally available and then really getting this open protocol cloud platform that's able to not only receive the data from the building systems but also fully integrate with all other cloud based platforms for a fully robust platform in the cloud that has multiple data sources and can really give you a single glass pane into the view of operations.