CRE is evolving and technology needs to evolve with it. Coupling years of experience consulting for commercial real estate decision makers with technological know-how, rSquaredCRE launches to tackle advancement in CRE valuation and underwriting.
Filmed in Partnership with Realcomm | IBcon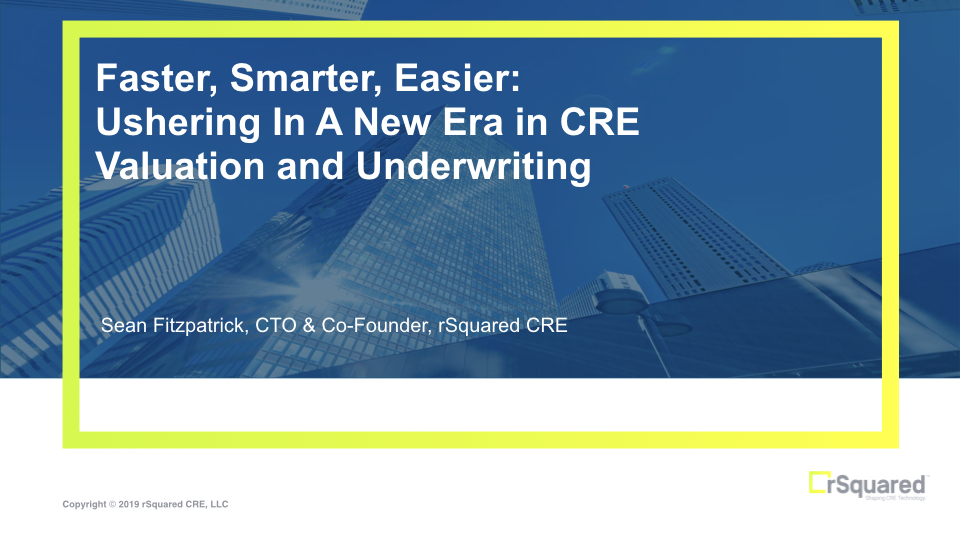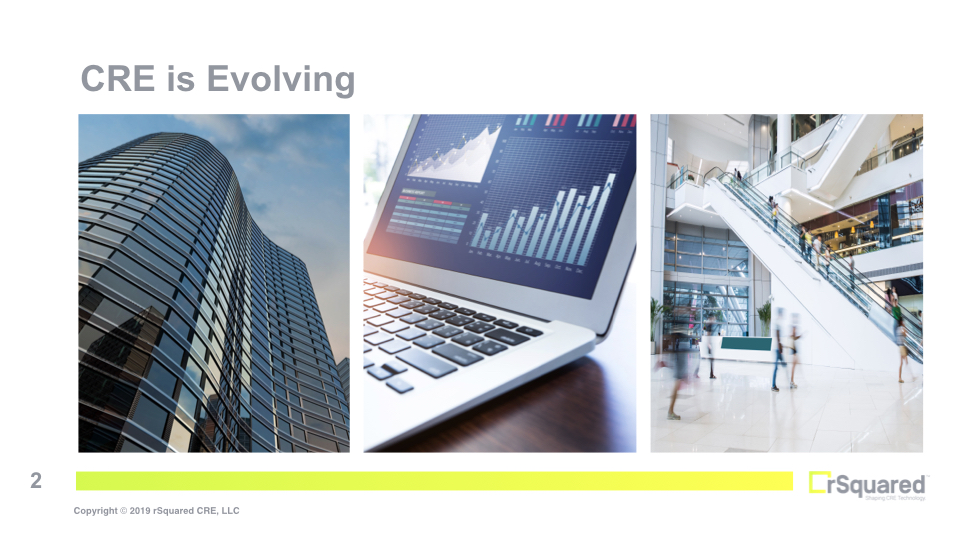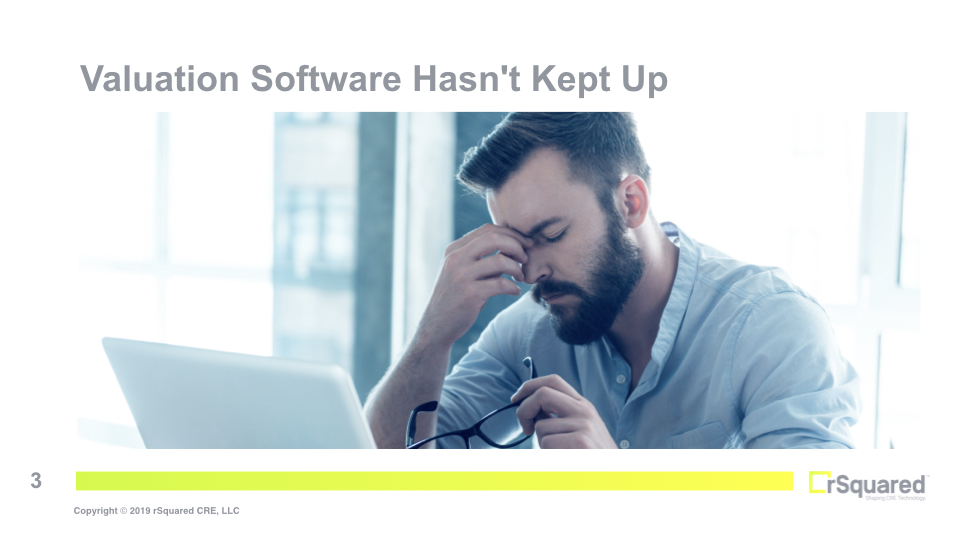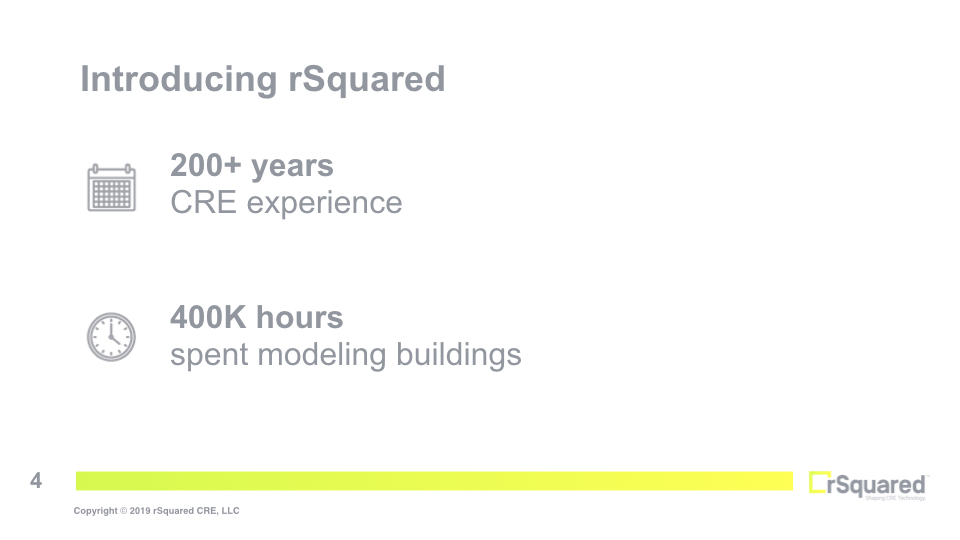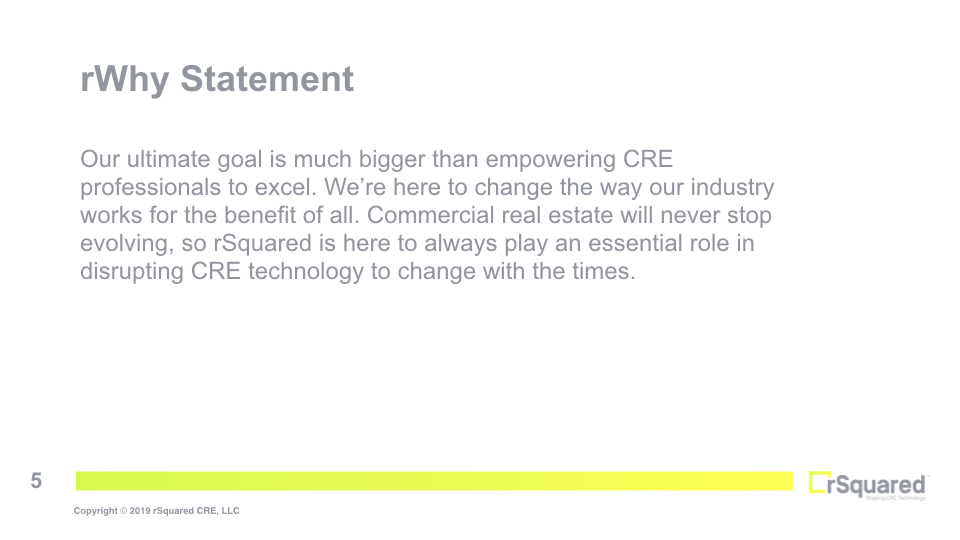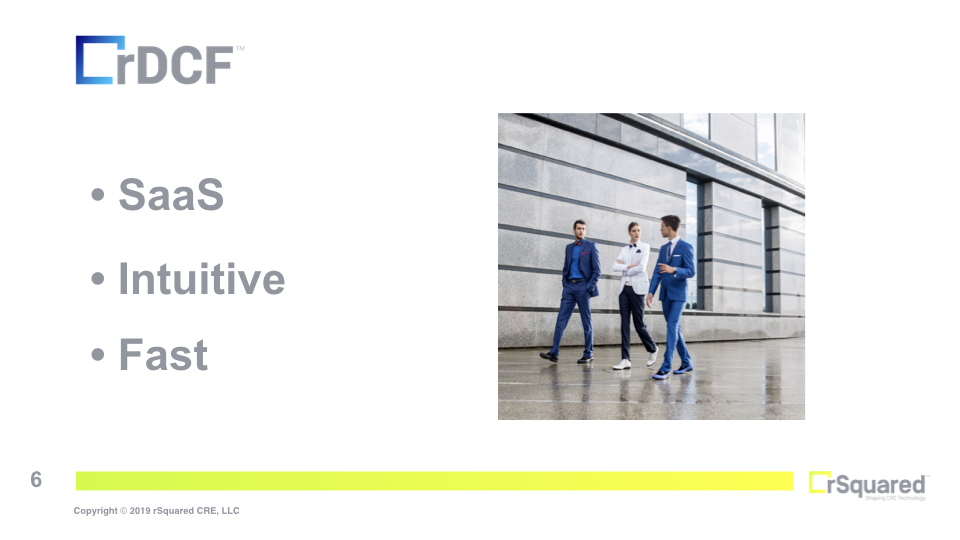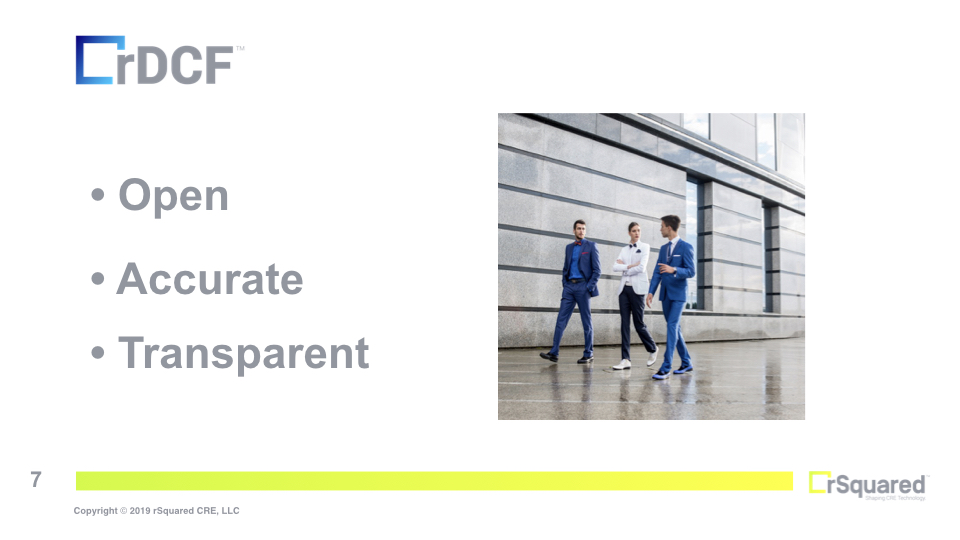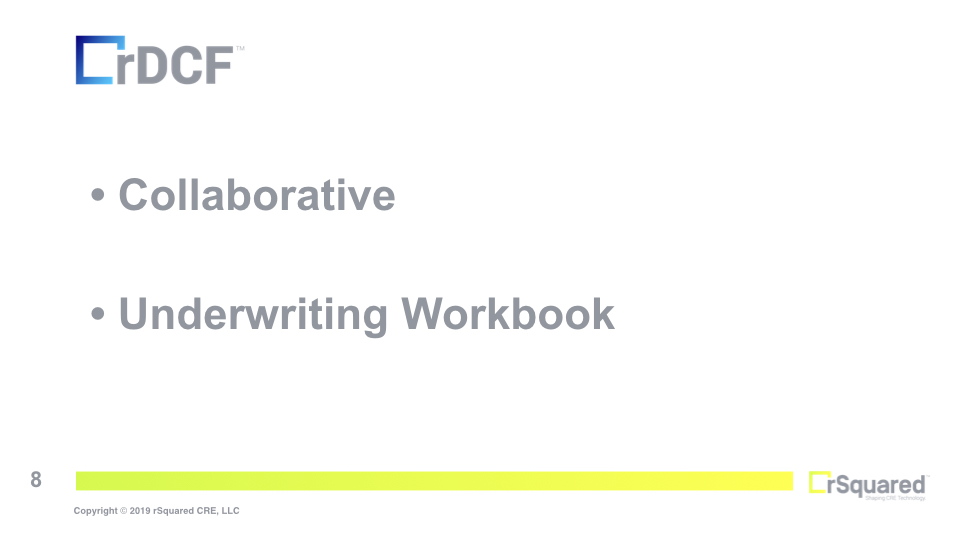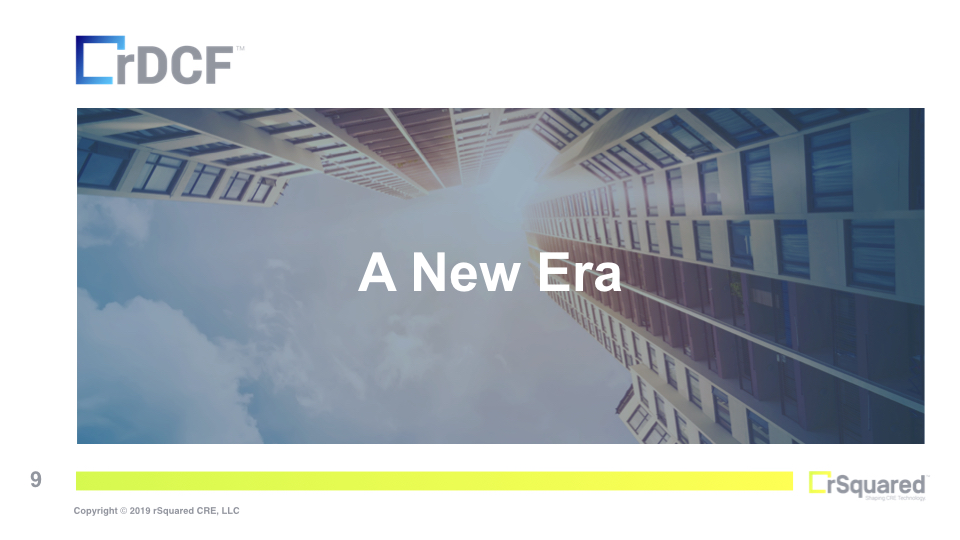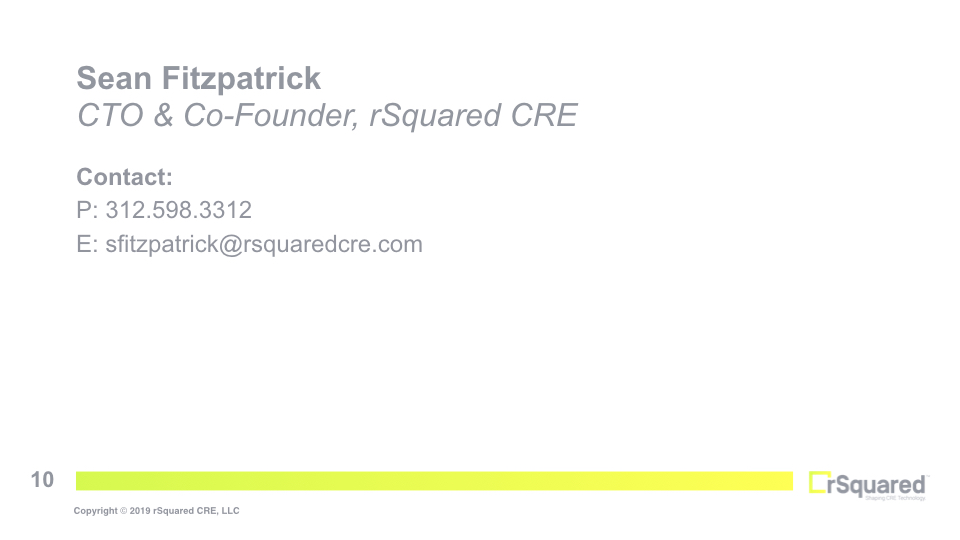 VIDEO TRANSCRIPT:
So CRE is evolving and what we've found is while our industry is rapidly evolving the technology hasn't quite kept up pace. In particular we're expected to close acquisitions now and half the time that we previously did but our software isn't keeping up with the task.

So valuation software in particular hasn't met our expectations. We're still using desktop software, we're using software that was built over a decade ago. And while that's okay it's not going to get us to the efficiency that we need to be as an industry. So things like multi day training sessions to get you up on your valuation software. We think this is really a symptom not a solution. It should take you an hour, two hours tops to get you up on your your CRE software.
So we're going to show you a solution here in a moment that hopefully will solve some of those problems.
Our company our squared CRE is a brand new company but we're based out of an original consulting company. We've had hundreds of years of experience producing software. We have two existing software applications right now, our abstract and our budget that our SAS software applications in use for over a decade. So we're not new to this game where we're very much in a technology leader. We've got wonderful very popular clients, clients like Hines, EOP, Griffin Capital, First Capital to name just a few.
These clients have reaped the benefit of our experience are hundreds of thousands of hours of modeling commercial real estate software. So we used our experience our frustrations that we found in modeling software to come up with a new solution a solution we think that the industry will greatly benefit with.
Here's our mission statement. So we're of course all about empowering CRE. We feel that our solutions will allow the industry to grow more quickly to have less friction and to get what we all need to get done which is valuations more efficiently processed. So what do you need? What is absolutely necessary to solve this problem? Your solutions have to be SAS based. There's zero cost of ownership as it relates to owning hardware. So your TCO is going to be lower. You don't have to make those commitments, there's no sequel server upgrades. This is what is required for 2019. We cannot be using desktop software. We can't use software that you have to be at your office to actually be able to use it. You've got a SAS solution. All you need is a browser, ubiquity anywhere you have a browser. You're going to be able to use our application.

So again if you've got to spend time training people, if people have to guess what it means in a particular field you're going to introduce errors, you're going to have problems. So our application is intuitive. We have something we call an input carousel so you don't see hundreds of columns, you have to studiously scroll through the input carousel shows you just the field you need to see and just the areas you need to see them. So you're going to realize a much more efficient more intuitive interface. The UI feels kind of like a rich desktop application but you're in a browser so you get all that benefit of the rich desktop but you're in a browser environment and fast.
So we've got all sorts of hooks in the application. We've got hotkeys, so hotkeys to navigate to different places quickly hotkeys to add things to delete things. In addition to our hotkeys we have things called walkthroughs. So we can walk you through common things so you'll find in the application that we can get the data calculated the data in and the data out in the most efficient fashion.
So one knock on a lot of the incumbent software is that they're just pretty close environments and we built this with an open environment we want you to get your data into and out of our application with no friction. We have what we call round tripping of Excel so you can export your data manipulated in excel and return it. And while that's helpful for a single asset if you have hundreds of assets this can be a huge time saver. Take inflation for two dozen buildings change it in one place upload it simultaneously.
There's a lot of benefits of being open. And we also open in the ability to consume data from other applications out there. So we've got a very robust VTS integration. We can import deal data from VTS we can import portfolio information from VTS we have links to legacy software. So we wanted to be as inclusive as possible to gain as much traction as possible our application is available for third gate trial for free. We don't want anybody to not have the opportunity to try to use the software. While you're using it, you have the ability to create snapshots. These are little things you can email anybody else or you can share the snapshots via our own email links. So you can send out to as many people as you want and get them up and running on the application.
So obviously everybody wants to use a DCF application that's accurate and it's something you'd expect. We try to bring it home further by giving you the ability to see all of your reports in excel. So these are not just CSV exports of data. This is formulas, these are presentation quality reports and that ability to vet them in excel guarantees the accuracy.
Finally we need things to be transparent, so you can look at that formula, we have wonderful audit reports. A lot of times things like recoveries become black boxes you don't understand how the numbers came to be. When you see the formulas you can confirm to yourself that the application is doing precisely what you want.

Collaborative. So we've got this in the cloud SAS application. We can have multiple users simultaneously editing the same property, they can be editing the same property, they can be running reports, they can view doing portfolio analysis, they can be working on multiple properties simultaneously so there's no ability to have to check out a property check in a property all of it can be done simultaneously allowing for a more collaborative environment. And again you can send out those snapshots so it doesn't have to just collaborate within your organization. If we collaborate with organizations around the world.
Our underwriting work this may be our single biggest differentiating factor. So you get this rich 15 to 20 page workbook that has all of the analytics that are typically very difficult to find within these reports. So we've got excel where everyone kind of does their last mile analysis. They're going to layer on debt they're going to put in partnerships going to tiered participations. All this stuff is typically done by taking canned reports cutting and pasting into Excel.
You know cutting and pasting into Excel you're going to introduce errors. You know it's going to take you a long time. So we get rid of all that by having this underwriting workbook. We think this will save hundreds of hours for each client each month. So this is the kind of stuff that we think has to be in an application to be fast and efficient in 2019.
So what we're talking about is a new era. were going to have a new era where people can openly collaborate fast efficient intuitive. No need for weeklong training sessions multi day training sessions. No need to engage another consultancy to get your users up on the application. Our DCF will be that solution that allow you to cleanly efficiently model from start to finish your last mile analysis and excel and we think we will change the industry with it.

Thanks for your time.